View our
Parish Profile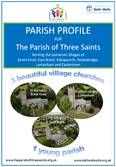 Interregnum
On instruction from the Archdeacon, Anne Gell, we are able to inform you that the interview for the new priest for our parish has taken place.
The Church Family will be informed of the outcome as soon as possible during a forthcoming Sunday worship.
Thank you very much to everyone who took part in the informal visits day, our parish representatives, Max and Anthony, and to all those who have been praying for God's will to be done.
For the latest update on our Interregnum, including Worship, please click here
During this period if you wish to book a wedding, baptism, funeral etc, please contact Mrs Carole Carter, our Parish Administrator who will make all the arrangements. Office telephone number 01278 769082
Parish Life
You can view some general pictures of Parish life on this home page. For a pictorial diary please visit the Photos section of the website (direct link here)
Information Management (GDPR)
Please explore our website